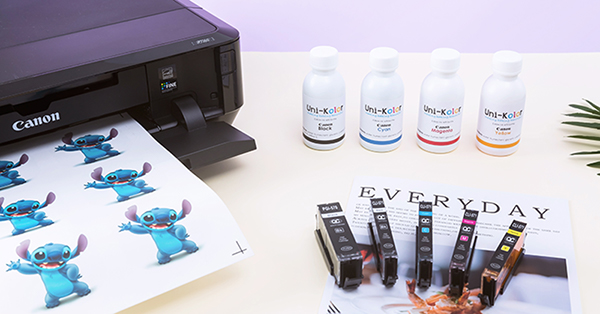 What is Edible Ink?
There are two main kinds of edible ink.

First, there is the edible ink that is used freehand. Cake decorators have options like pens, bottles and even canisters for airbrushing that allow these artists to paint, draw and spray on an almost unimaginable amount of effects, images and textures directly onto a cake. In other words, if you know how to paint, you can use these inks.

Second, there are edible printer ink cartridges. These work just like regular ink cartridges, except they – unlike regular printer ink – are safe for human consumption. You create or download an image onto your computer, and you print off as many copies as you like onto special edible paper. Then you can cut out the designs with a craft knife or scissors.

This is the edible ink we'll focus on here.

Let me guess: I need a special, expensive printer, right?

The fact is, they do make dedicated edible ink printers, but all you really need is a regular, off-the-shelf inkjet printer, provided it has never printed with regular ink. You can technically clean out a used printer very thoroughly, removing all traces of ink and dust from inside and outside the machine, but it's safer and easier to just have a dedicated inkjet printer for all your edible ink printing needs.

What kind of paper do you use?

As with regular print jobs, you have a selection of papers to choose from. The most common are:

• Icing sheets:

These are thin layers of icing, usually flavoured with vanilla, that are smoothed onto a plastic backing. This allows the icing to be fed into a printer easily. This paper is best for photographs and designs that need to blend in well with icing that is already on the cake. The icing simply melts into the icing on the cake, leaving just the image behind. Remember to remove the backing before you place it on your dessert, and ensure you smooth the image as you go along if it's a large image.

• Wafer paper:

This is also known as rice paper, though it can be made from both potato and rice starches. The starchiness of the paper means it holds its shape really well, unless it gets wet. It does tend to blur images, so it's best for abstract designs or background textures, where sharp lines aren't as necessary. They also tend to be significantly cheaper than icing sheets.

Whichever paper you choose to work with, you'll have a range of choice. Manufacturers today print all sorts of designs and images on their icing sheets and wafer paper. You can choose pre-printed designs, including ones you colour in yourself, or use blank paper. You can opt for anything from zebra stripes to watercolour flowers, and they even have pages filled with pre-cut circles or other shapes, just to make decorating that bit easier.

Troubleshooting

The colours are all wrong!

1. Remember that the inks won't match perfectly. Because of the nature of edible inks (that is, they have to be nontoxic, at the very least) and edible paper, you won't get the perfect colours and crisp images that you'd get with inkjet inks on photo paper. Keep your (and your clients') expectations realistic, and you should avoid most disappointments. If you're sure you can get a more faithful colour, then read on.

2. Check if all the ink cartridges are working properly. Your printer will have a menu option allowing you to clean the printer ink heads. Run that to make sure all the cartridges have ink and are working.

3. Adjust the colour settings. You can adjust the image's colour settings either in the printer's menu or in the image editing program you're using. If you do adjust the colours directly on the image, make sure to save an unedited version of the image, so you can check the colours against the original image.

4. Consider the source. Not all edible inks are created equal, and if you keep getting inconsistent results with one brand, try some others.

The image is too dark!

1. If you find the contrast in your image is too dark, you might first consider looking at your photo printing settings. Edible paper is much more absorbent that, say, photo paper, so if you use the wrong setting, the printer can end up injecting too much ink onto the page, making the contrast off and the image blurry. Try using the plain paper setting instead. You can still choose to print a high quality image, but the ink use will be more appropriate for edible papers.

2. You can also adjust the contrast intensity in your printer settings or directly on the image itself. Again, if you're going to work on the image directly, save an unaltered version to check against.

My cartridges aren't working!

1. The good news here is that changing and maintaining food ink cartridges is as simple as changing and maintaining regular printer ink cartridges. The first step, then, is to check that the printer is on. Make sure all the connections between your computer, the printer and the power supply are secure.

2. Check the printer display or your computer to see if any cartridges are low or empty. If one is low on ink, just follow the user manual instructions, and you should be printing again in no time.

3. You might also need to clean the ink heads out, like we talked about in second step of the first issue.

There you have it: our complete guide to edible ink. From cartridge to application, we've taken you through the whole process of using edible inks. These inks are easy to use and seriously impressive, so get started today!